---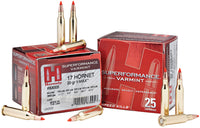 17 Hornet 20 gr V-MAX®Superformance®
 

Varmint

Item #83005 | 25/Box

Superformance® Varmint ammunition delivers muzzle velocity increases of 100 to 200 feet per second from EVERY gun. Accuracy, increased range, flatter trajectory, less wind drift and devastating terminal results are all realized with Superformance® Varmint ammunition.
Product
Features
Same C.O.L. as the 22 Hornet (uses the existing action).
Trajectory comparable to a traditional 55 gr 223 Rem, but the felt recoil of a 22 WMR.
Less fouling, barrel wear, powder and pressure compared to the 17 Rem.
Lower cost and comparable quality to the 17 Fireball and 223 Rem.