---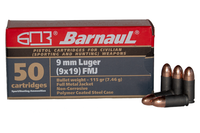 Barnaul 9mm luger
9x19mm Luger (aka 9mm Parabellum, 9mm NATO, 9mm) is by far the most popular handgun cartridge in the world today!
**ZINC PLATED STEEL CASE**
The 9x19mm Luger has served militaries and shooters for 100 years.
9mm has been proven over and over as a competent self-defense/duty cartridge in full size pistols and higher-capacity compact pistols.
FMJ 115 Grain Statistics
Ballistic Coefficient (G1):
127
Muzzle Velocity V0

 

ft/sec:
1,329
Muzzle Energy E0

 

J ft/lb:
453
Max Powder Pressure Bar (lb/inch2):
34,084
Cartridge Max Length:
1.17 inches
Cartridge Average Weight:
179 grains
Rounds per Box:
50