From the ice age to the digital age, MarCum's vanguard LX-7L Lithium LiFePO4 has forever transformed the game of hunting fish on frozen water. Over a decade of cutting-edge sonar design in the making, the radically innovative LX-7L Lithium LiFePO4 has been built with the optimum blend of sonar DNA from MarCum LX Flasher and Digital Fish Finding technologies. A true breakthrough in "big picture" ice sonar, LX-7L Lithium LiFePO4 presents anglers with an incredible interactive ice fishing experience in a panoramic 8-inch LCD environment (four vividly rich color palettes included.) Multiple industry-exclusive features provide a dazzling array of precious fish-finding Intel. Fully user-defined on-screen "Dashboard" displays digital depth, battery voltage, range, gain, interference rejection (IR), target adjust, or any combination thereof. LX-7L Lithium LiFePO4 "Multifaceted Sonar Display" also gives anglers fully customize window views, including water-column vertical, vertical zoom, flasher-dial and traditional horizontal LCD graph displays. Sonar Footprint technology displays scan area at any depth, with either 8 degree or 20-degree transducer cone angles. This provides a keen awareness of fish targets relative to the transducer, and your lure; also helps prevent adjacent (non-MarCum) sonar users from picking up interfering LX-7L Lithium LiFePO4 pulses by avoiding the "footprint" area. All LX-7L Lithium LiFePO4's come preloaded with the full menu of MarCum's patented features, as well as a USB port for firmware upgrades.
SONAR FEATURES & SPECIFICATIONS
MODEL NO.
LX-7L
DISPLAY
8″ Flat Panel Color LCD
4 Color Palette Options
POWER
4800 Watts Peak to Peak
Output Power
CONE ANGLE
Dual Beam 8/20 Degree
Ice Transducer
TARGET SEPARATION
Down to 1/2-Inch
INTERFERENCE REJECTION
Patented 12 Step
Interference Rejection
ZOOM
Automatic Bottom Lock
Selectable Zoom Windows –
5′, 10′, 20′, 40′
Patented Infinitely Adjustable Zoom
(Zoom anywhere throughout the water column)
RESOLUTION
800 x 600 Pixels
CABLE
8 ft. Transducer Cable
ON SCREEN DISPLAY
Any Combination of Vertical,
Vertical Zoom, Flasher, Graph &
Graph Zoom Split Screen
BATTERY FEATURES & SPECIFICATIONS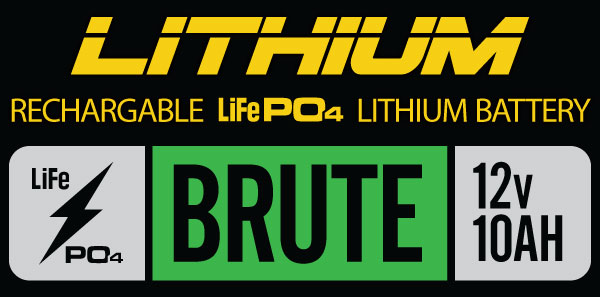 | | |
| --- | --- |
| MODEL NO. | LP41210 |
| BATTERY TYPE | Lithium Iron Phosphate (LiFePO4) |
| VOLTAGE | 12.8 Vd.c. |
| AMP. HOURS | 10 AH |
| WATT-HOURS | 128 |
| MAX CHARGE CURRENT | 10-amps |
| PEAK DISCHARGE | 10-amps |
| TERMINALS | Standard F2 Spade Terminals (6.4mm or 0.25" wide) |
| LIFECYCLES | 2000 Full charge cycles |
| OPERATING TEMPERATURE | -29°C to +49°C |
| BMS PROTECTION | Circuitry designed to prevent the battery from operating outside its safe operating levels. Includes: over-current & over-voltage protection, regulates operation during high & low temperatures, balanced charging, and short circuit protection. |
| ESTIMATED RUNTIME* | 18 Hours Depending on Conditions |
| SIZE | 5-7/8″ x 2-1/2″ x 3-5/8″ Replaces Standard Lead Acid Battery |
| WEIGHT | 2 lbs. 11oz. |
*Runtime estimates are based on power usage with factory default settings. Changes in user settings like screen brightness can have a major impact on power draw and therefore runtimes. MarCum Technologies offer these estimates to aid in determining the size battery you need to meet your use case.